[Jeongdong Theater Korean Mask Dance <Dong-Dong>]
Korean Mask Dance "Dong-Dong", The first meeting 
*The first production meeting*
​
The first production meeting of "Dong-Dong", September, 29 @Jeongdong Theater Rehearsal room ​
​
The first step of the production is "Encountering".
​
Encountering of the production team, encountering of actors and audiences and encountering of the performance and the audiences!
​
Here below the scenes from the first production meeting of Dong-Dong!
​
​
It was the first day of the rehearsal.
And it is the day when the production team and actors introduce each other.
Jeongdong Theater Korean Mask Dance <Dong-Dong> has "Talchum Workshop"
before having the first production.
Anyway, It was Friday, September 29, the first rehearsal meeting!
​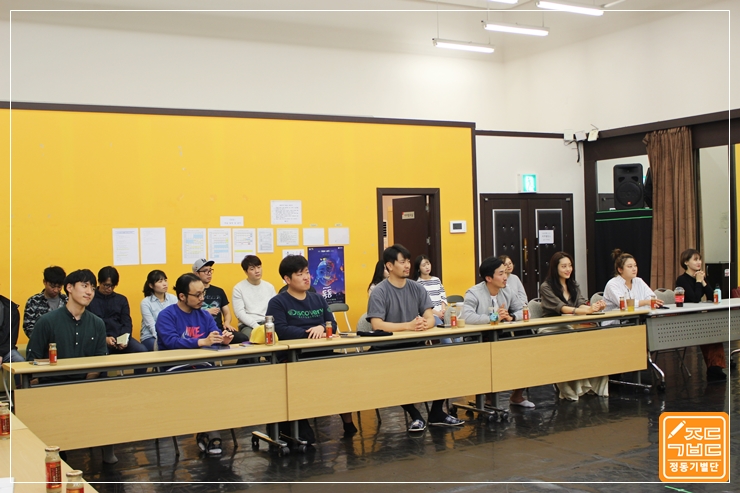 September. 29, The first production & rehearsal meeting @ Jeongdong Theater Rehearsal Room ​
​
Jeongdong Theater's production team, stage arts team, and marketing team were gathering together.
And the actors and all crews were also gathering here.
​
It began with the greeting of the chairman, Sang-won Song.
 ​
​
There was an awkward silence from the first meeting.
However it finished with hot atmosphere!
​
​
​
CJ Hanpuri supported the first meeting and rehearsal!​
​
How do you expect the performance?
​
We are waiting for your support!.
​
​     ◇ Performance Information ◇
Title : Korean Mask Dance "Dong-Dong"
Period : November 9 – November 26. 2017
Time : Weekdays 8 am, Weekend 3 pm (No Performance on Mondays)
Venue : Jeongdong Theater
Inquiry / Reservation : Jeongdong Theater +82-(0)2-751-1500 / Interpark +82- 1544-1555
Held and organized by Jeongdong Theater
*Please click to reservation*
http://jeongdongtheater.com/wp-content/uploads/2017/10/3-1.jpg
493
740
jdadmin
http://www.jeongdongtheater.com/chn/wp-content/uploads/sites/3/2017/03/JEONGDONG06_SIGNATURE_ENGLISH.jpg
jdadmin
2017-10-29 15:12:09
2017-11-05 11:55:49
The First Production & Rehearsal Meeting of Dong-Dong!